"A B C D goldfish?
L M N O goldfish!
O S A R!
C M P N?"
Sitting on the back or the bow of our boat, this ditty was repeated every time someone was fishing off the side, whether early in the morning or late in the day. We grew up on a boat… from a 20' Sorg to a 32' Richardson… we spent the majority of our summers "at sea," aka Lake St. Clair. Mom would spend all day Friday cooking up a storm… fried chicken, potato salad, desserts. We'd pack up the food, suits, towels, kids and a dog and off we'd go, for an evening ride in the late spring or for long summer weekends anchored at a favorite swimming spot.
(Funny, today our very favorite spot now hosts the yearly "Jobbie Nooner" on Lake St. Clair!)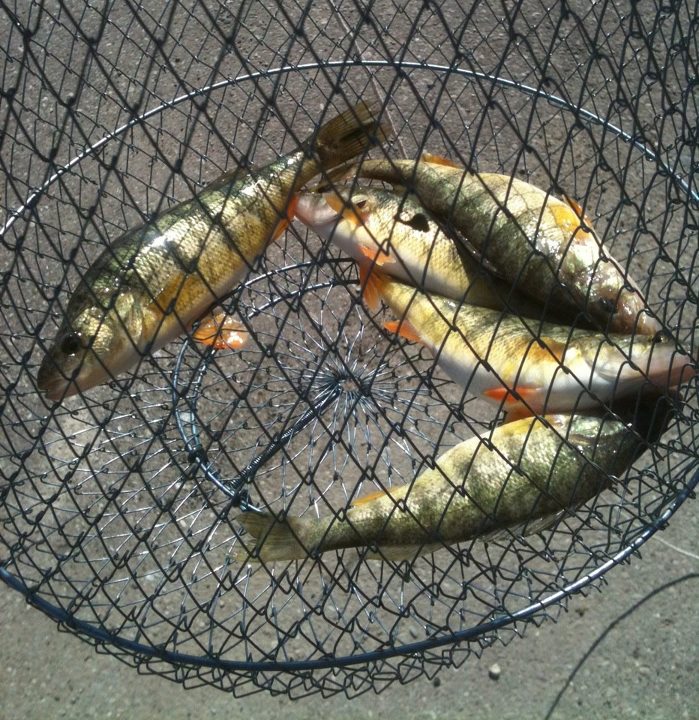 "Little fishy in the brook
Daddy catch him on a hook
Momma cooks him in the pan
Kids eat 'em up
Fast as they can!"
Whether in the dining room or in the galley, this little ditty heralded the coming of a favorite dinner.
While watching an episode of "Chopped" recently on the Food Network,childhood memories were triggered of my dad. One of the show's surprise ingredients was Lake Perch. While each of the contestant chefs either never had them or called them, if I remember correctly, a "dirty fish" and not worthy of their talent, those of us who grew up on the east side of Detroit remember this as a delicacy, worthy of a Meatless Friday feast! Many's the time we watched Dad clean the fish on the boat's back deck or on the bow and then cook it on the stove in the galley.  Thinking of it today, how did they manage to cook in, at most, a 4' x 4' space with 4 kids and a dog? But mmmm-mmm-mm, was it good!
When Dad came home from a very early excursion with one of the uncles or a Grampa, we knew what was for dinner that night! We had a deep fry unit on our stove that was filled with "fish grease" and the fish (that were thankfully cleaned back on the boat) took a "little swim." Dad would place a plateful of freshly fried fish on the table and before he got back to the next batch (only a few short feet away), the plate was empty and we were begging for more, more, more! Another burner held a pot with "french fry grease" for the best French fries in the world… outta the pot, into our tummies! Can't get much better than that!
Categories: None